Something dark like tar came out of me last week. It was a she, a different kind of she than I am used. She was tall, vindictive, and jealous. She had sharp teeth and lovely long manicured fingers. My dark feminine.
"Hello. Are you done with this open-hearted nonsense? Are you done being gutted?" She asked, "Now let's have some fun."
She wanted revenge. She wanted to destroy. She smoked anger but so elegantly - the high end brand. She was beautiful like the black widow. She moved the way the wind does in the middle of the night. Hush-hush but slapping against your window to let you know she was there.
I was happy to see her. She made me scream and throw things. She made me growl. She made me curse. She wanted me to do every taboo thing on the menu. She wanted me to cause pain, even if it was only in my mind. Sweet drawn out pain. She was that bad mentor I never got the chance to meet, whom I should have met earlier on in life.
She gave me power and height. I felt it when I dressed, when I bathed, when I crawled into bed. "Chin up," she would say whenever I sank into my blues, "We'll hurt them good. We'll hurt them all."
I questioned her when she said things like that. But then, it's always refreshing to hear something new. I had also come to believe that the dark feminine had every right to exist as her lighter loving counterpart.
When I was done questioning, my dark feminine led me to one sacred thing: Tango.
It's been a dream of mine to learn the Tango since a very young age. It was always one of the most mesmerizing dances for me. I never got the chance to learn the tango because, growing up, I was buried under constriction and impeccable self-control. In Saudi - and most Islamic societies nowadays - touch between males and females who are not married or direct family is prohibited and I believed it was sinful for a long time. It was not until my brittle house of cards fell apart that I questioned that mantra.
I started by shaking hands with my guy friends or colleagues, then progressed to hugging my first cousin, whom I always thought of as a brother. We never hugged in front of the elders in our family but hugging him was a relief because the comradeship and sincere love I felt for him was satiated.
We need touch. We really do. When I came to terms with the idea of touching a stranger as part of an exploration or a social activity such as tango, I had already moved back to Saudi Arabia. There were no tango lessons there that I knew of - even in secret.
There are tango studios galore here in Dubai. I visited a couple to get a feel for the instructors before I settled on one. The astonishing piece of news is that both of them, after an hour of testing my movement and the way my body works, looked at me, bemused, and asked the same question:
"Are you sure you've never done ballroom before?!"
In her corner, my self-satisfied dark feminine lit herself a new fag and smiled to herself, pretending she hadn't heard that.
I train now at Tango Ok Studio with Oliver, a charming Swiss gentleman who makes the dance more like a feeling than a series of steps. Oliver is tell and well-built. He has green-gray eyes…I can't really tell what color they are. In another universe, I would have been the kind of person whose grandfather was not religious and did not stiffen up when I tried to hug him and he would have taught me to tango like Oliver does.

Oliver's wife assists him in teaching. She's a slender beauty with Asian hauteur making her "tango face" very enviable. I watched the two of them demonstrate the dance for me on my first lesson. I could see them speaking to each other silently, the same way that that couple did in Cyprus (See Cyprus Journal). They swept across the floor as though they had no weight at all and while their eyes never met, they spoke volumes of passion. She caressed the sides of his legs with the tip of her toes. He made it safe for her to do so. I watched them from the side of the ballroom. Something welled up in me unbidden because the dance was everything I had been yearning for: passion, intimacy physical and emotional, intuition, effortless communication, sexuality, ease…and the safety to claim and express all of these.
When the music stopped, they turned to me and said: "Why are you crying?"
"It was so beautiful." I said stupidly. I could not explain all that.
I flowed into the dance right away. It amazed me. My feelings transcended pride and emerged into humility. I felt a heartbroken sort of gratitude for this discovery. It was liberating, incredibly liberating. In a way, I might have been practicing the tango in my mind for so many years just by watching it on Youtube or in films like Chicago and Moulin Rouge.
Oliver said something very profound to me about Tango. I can't remember exactly right now but I will try to word it as best as I can.
"Tango is like the walk of the peacock but the peacock keeps its feathers fanned out for display. In Tango we open and close with every step." Like night and day, like hatred and love. Push, pull.
After we practice the steps in front of the mirror, Oliver holds me in position and begins to sweep me around the room with no warning.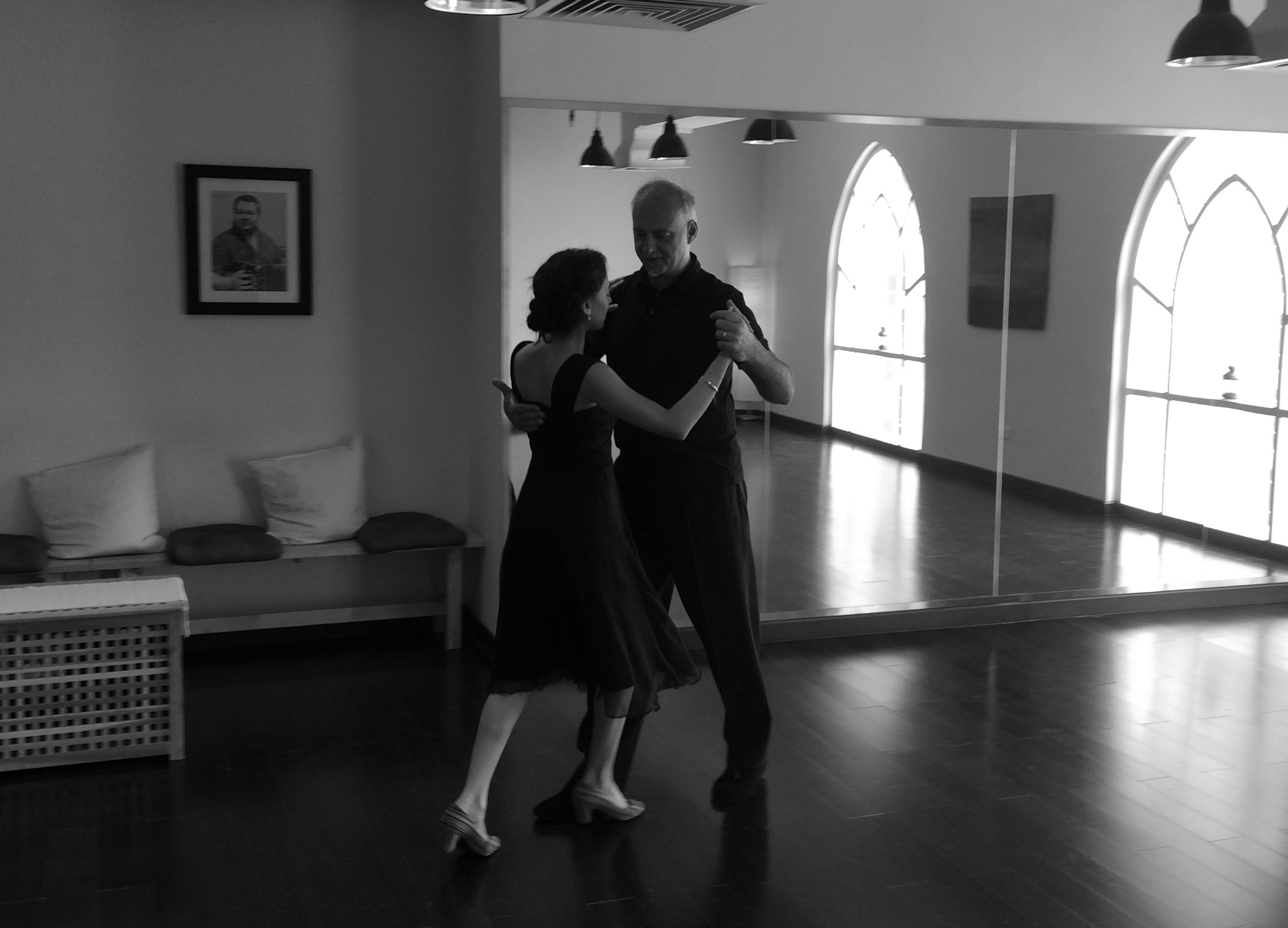 "Just feel it," he says, "I won't say a word but you need to understand what I'm saying to you."
By that he meant I needed to read his thoughts so that our bodies can move in flow. Tango needs intense presence so that the intuition can listen and respond…I found it was not hard to read Oliver and understand which direction he wanted to go, which step he wanted to take. It required, not only presence but the complete surrender of control.
In our second lesson, it was not so easy. I was having trouble concentrating. Self-consciousness pooled in through the sides and the cracks. I couldn't keep up with Oliver's steps. And when we danced on the floor, Oliver found that I leaned back too much. I noticed myself doing that and wondered, did I lean back in my relationships too?
He stopped in the middle of the dance floor and asked Lin to step in for him. He told me to close my eyes, lean on her arms and let her guide me.
"You need to lean into her and she needs to lean into you. You create this nice tension between you and this is the only way you can understand each other. If you lean back you will lose your balance and you will lose your communication."
We went around the room with my eyes closed. I tried to lean into her but there was resistance.
"I'm afraid of leaning in too hard," I told her.
"It's all right if you do," She said, "We won't fall. Even if we do it's only the floor."
I smiled. Lightbulbs flickering in my head. How many times have I held back in a relationship, solidly believing it was the best thing for my heart?
Then, Oliver caught me after Lin. I did the same with him. I leaned into his arms as he moved me around the room with my eyes closed. This time, I noticed so much pressure in my arms and they began to hurt. I was leaning in too hard now.
Oliver stopped. "Now see? We will both be feeling pain in our arms this way. You're leaning in too hard. We need to be equals. You can't lean in too heavily and expect me to keep holding you."
I looked at them both and said, "This is so deep you guys!"
"Yes, it's very spiritual," Oliver said.
This dance spelled out all my relationship mistakes. I was amazed. Oliver whirled me around for a second go. I kept my eyes closed and felt out the right amount of tension between us. It got easier. I trusted him to hold me as I leaned in…I held back just a little so that the energy field between us could stay relaxed and stable. That was when the dance felt like the flow of water in eddies and streams and we moved as one. Intuition. Communication. It all rushed silently in the space between us. With the music in the background, there were moments of transcendence where I slipped into meditation. For a few seconds my mind went completely blank and I saw the space of love behind my eyelids. I no longer had weight.
"Excellent! Excellent!" Oliver cried.